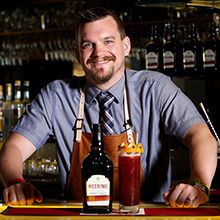 Troy Clarke
Director of Mixology and Education
,
Martignetti Companies
Award-winning mixologist, Troy Clarke, leads the Martignetti spirits education and consultation program that helps design bars, inspire drink menus, tailor cocktails and waitstaff trainings. Troy can help elevate bar and restaurant drink service to the next level. Spirits training can happen either on site at bars and restaurants across Massachusetts or in our state-of-the-art Spirits Education Center, designed to show waitstaff how to make delicious drinks to accompany the menu, while showing how to efficiently make the drinks and run a streamlined shift with all the necessary bar equipment.
Troy's official title is Director of Mixology and Education for Martignetti Companies, and he is also Co-Owner of Twelve24 Cocktails. He served as President of the United States Bartenders Guild, Boston Chapter (2011-2014) and brings over 20 years of experience in the Restaurant and Hospitality Industry; ranging from time behind the bar, to years of Executive and Sales Management, and countless hours of continued education in the field. Prior to Martignetti, Troy held numerous leadership titles including Director of Food & Beverage, Banquets Director and Director of Outlets at various well respected hospitality companies including; Sonesta Collection, The Ritz-Carlton, Starwood Hotels & Resorts, Marcus Hotels & Resorts, among others. Through Twelve24 Cocktails, Troy creates thoughtfully designed and carefully crafted apparel for bartenders and industrial professionals.
Troy's accomplishments are numerous, including the five-day BAR program in NYC, the Spirit Certification from the United States Bartenders Guild, Cocktails in the Country (Master of Service Certification) and various wine certifications with Court of Masters and International Sommelier Guild. With an affinity for high quality ingredients and the total creativity that recipe design allows, Troy loves both creating original cocktails as well as cultivating the classics.