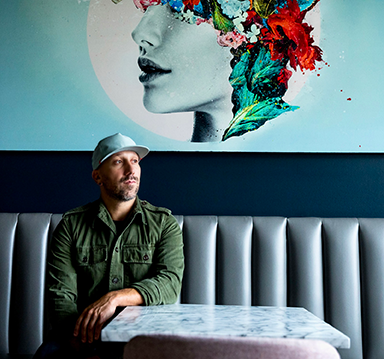 Markus Sebastiano
Artist/Owner
,
Blochaus Art Gallery
Markus Sebastiano is a Boston, MA-based mixed media artist. He primarily creates exclusive large-scale artwork, murals, and installations for upscale restaurants, hotels, brands, and commercial spaces. Markus' unique style of layering vintage paper, digital art transparencies, spray paint, acrylic, and resin has helped make his work very recognizable, especially in Massachusetts. People often comment "I've never seen art like this before, can you tell me about the process". He draws inspiration from textures of the past to combine them with contemporary photographic elements. Whether it's a female portrait or a decaying city street, the same process is applied. He toggles between digital painting and physical painting, often switching back and forth in order to chase his vision of a completed work of art. He refers to his style as "Vintage Future"
Over the past decade, Markus has continued to gain loyal followers and collectors internationally. He has created custom artwork for global brands, celebrities, restaurants, and hotels such as Lululemon, Coca-Cola, SAP, Absolut Vodka, Jameson Whiskey, Lil Jon, HGTV, BRAVO, W Hotel, Yotel, Cambria Hotel, AC Hotel, Committee, Mariel, High Street Place, Sagamore Hotel, and more. His personal work has been exhibited throughout the US and has made appearances at international fairs including LA Art Show and Art Basel Week, in Miami.
In 2021 Markus launched Blochaus Art Gallery in its new retail location in Newburyport, MA As an artist-owned gallery, he continues to promote and showcase established contemporary artists alongside emerging up-and-comers. Our inspiring new space promotes and hosts art openings, curated experiences, and special events, Our goal is as ever, to bring people together in the name of art.