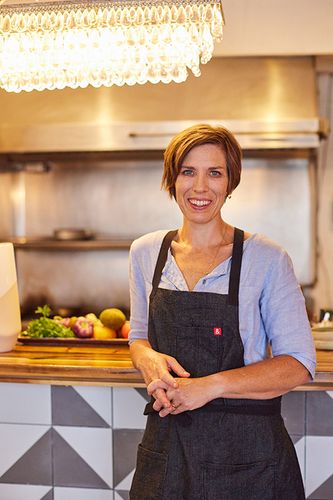 Erin Miller
Erin joins the decorated lineage of women chefs in New England and is proud to count Urban Hearth among the small number of acclaimed woman-owned and led restaurants in the Boston area.

Classically trained at the French Culinary Institute in New York and starting her career at Michelin-starred Blue Hill, Erin draws from her professional experience working in New York fine dining, her entrepreneurial skills running a culinary event company, her commitment to the Cambridge community as Board Member of Cambridge Local First non-profit, and her extensive background as a culinary instructor to create a unique dining experience. Urban Hearth opened its doors in 2016 and through Erin's stewardship quickly established itself as one of Boston's best kept secrets with a loyal following. Lauded as Boston Magazine's Best of Boston Farm to Table Restaurant in 2022, as well as being featured on ABC, NBC, and CBS affiliates and seen on Food Network, Chef Erin Miller's talents go beyond her 24-seat Cambridge restaurant and into national recognition. In August 2022, Chef Erin Miller took home the first ever Queen of Seafood title, and the first title for Massachusetts in the Great American Seafood Cook-Off in New Orleans, receiving commendations from both the Lieutenant Governor and Congress for her achievement. In 2023, Chef Erin participated in the 25th Nantucket Wine & Food Festival and Outstanding in the Field world tour and was awarded a Top 50 Restaurants in Boston slot by Boston magazine.

Throughout her career, Erin has been guided by a simple concept; that there is much to be learned and joy to be had when we gather around the table together. She diligently applies this philosophy beyond the dining table to her relationships with local farmers and producers, her team and her neighborhood community alike; bringing responsibility and care towards every step in the food system. Originally from the Blue Ridge Mountain town of Floyd, Virginia, Erin calls Cambridge home where she has lived with her husband and two sons since 2008 and is deeply engaged in the city's vibrant community.